Is the inflation challenge really over?
buyers
Tue, 25 Apr 2023
4 minutes read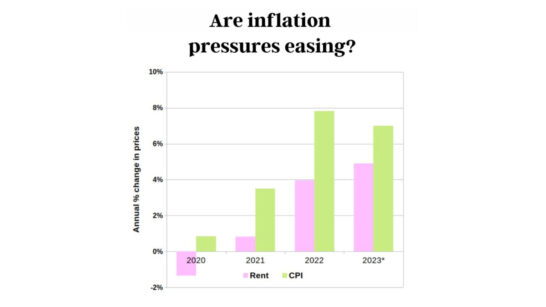 Headline CPI came in at 7.0% which is a reduction of 0.8% from the December quarter reading of 7.8%. Does that mean the inflation challenge is over?
Right across the world inflation got a huge shock after pandemic-era stimulus boosted demand simultaneously and global supply chains could not keep up. That catalyst is well and truly over in most countries, many stopped their direct money stimulus 12-18 months ago.
The global collective release of inflation was exacerbated by the collective failure of central banks to act soon enough. Unfortunately, the excuses put out in the media of global supply chains and the war in Ukraine were very real stories for 2021 and 2022 but no longer hold water. Oil as measured by West Texas Crude Intermediate (WTI) was $92 USD on Feb 22, 2022 prior to the Ukraine invasion, as of yesterday had fallen to $76 USD.

The inflation problem has instead migrated into the much more difficult to solve services sector. Chief among them has been housing. Housing is a unique component of the CPI as it captures both a goods price (construction) and a service price (rents).  The goods component is moderating fast however the service component, along with many other services, is still rising. In fact, the quarterly figure for growth in rent now exceeds the quarterly figure for housing construction cost.
According to the ABS, rents have risen 4.9% in the year to March, compared with 4.0% in the year to December (previous quarterly reading). The relatively modest pace in the growth of rent may come as a surprise to recent rental property hunters that might be more familiar with double digit hikes in Sydney and Melbourne.
The ABS points out that its figures are a combination of faster new rental leases and those longer term leases that roll over at a slower growth.
With building companies going bust and being unable to complete many houses, it is very unlikely that there will be an upswing in housing completions any time soon. Pressure will persist in the rental market and today's data shows that it has yet to peak even though headline inflation has.
The steady uplift in rents seems to suggest inflation may be with us for a little while longer and may keep the RBA with an upward bias for interest rates for much of 2023. This will further limit borrowing capacity of younger people and in turn make it harder for developers to sell houses and apartments off the plan.
Saving a deposit for your own home will continue to get more difficult. Visit Our Leg Up to see how to get out of the rental trap.
Note: 2023 figures are for the year to March 2023, all other years are for the full year to December. Annualised figures for the March quarter show an even stronger growth in rent of 6.2%.