Can the average person afford a home?
buyers
Sun, 23 Apr 2023
4 minutes read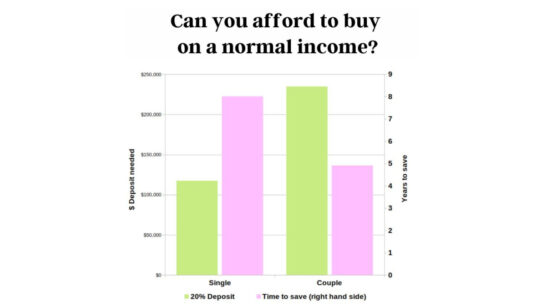 There has been a lot of discussion around the fact younger people are needing more help from their parents. Is it even possible for a person on a normal income to afford a home?
According to the ABS the average income for somebody employed full-time across both males and females and without any overtime or second job is $1807.70 per week, as of November 2022. For a single person, mortgage calculators, assuming you can gather a 20% deposit, will only allow you to borrow $470,000. Allowing you to purchase a property worth $587,500 once including your deposit of $117,500. That is only going to get you a modest property in most metropolitan areas across Australia. Enough for a single person can afford at least a 1 bedroom apartment in inner areas or a 2 bedroom apartment in middle and outer ring suburbs.
A couple fares much better than a single. With a combined income equal to 2 of the average weekly incomes, the borrowing capacity increases to $940,000. So we are talking about a combined purchase price of $1,175,000. That is above the median price for all cities in Australia except Sydney.
Under both scenarios, the assumption is a 20% deposit is available. Unfortunately this is where those people with families that can lend the deposit or act as guarantor can enter the market while others can't. This is commonly referred to as 'the bank of mum and dad'.
For people fortunate enough, it does afford the opportunity to get into the market much sooner. A property that may not be their 'forever home' but will get them a solid footing on the property ladder.
For people without such an advantage, a single that earns the average income, dedicates 50% of the after tax income to rent and saving for a house will be able to save for the 20% deposit in 8 years, assuming they can earn a 4% return on their savings throughout. This doesn't include the stamp duty, lawyers fees or any other expenses. A couple does have a real advantage here. The same scenario with 50% of the combined after tax income being saved or spent on rent will allow the couple to save in just 4 years and 11 months.
The problem of course is that by the time they have saved that 20% deposit, the combined deposit and loan may no longer be enough to buy that same property. Thereby requiring even more time to save.
The media has focused on young people's ability to enter the housing market. The biggest challenge remains the saving for a deposit. The second largest problem is the cost inflation of construction pushing up entry level apartments and houses the longer they take to save for the deposit.
Our Leg Up remains committed to helping level the playing field. Giving the opportunity for young people to access their first home sooner with as little as a 5% deposit.
Visit Our Leg Up to find out how.