Are rents too high or just playing catch up? Analyzing the rental market in Australia
buyers
Fri, 21 Apr 2023
2 minutes read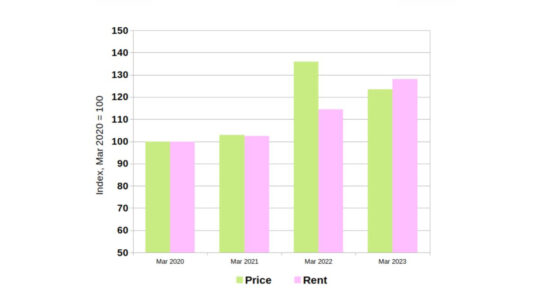 There is no doubt rents are under pressure. In a tight rental market, the struggle is real. The question is, are rents too high or are they just playing catch up?
Looking at the change in advertised rent for 1 month, or 1 quarter can sometimes led you astray. There can be large movements when people need to rent but there are insufficient properties available.
For this analysis, let's look at the change in rents from March 2020, just before the pandemic ructions, through 4 years, 2021, 2022, 2023. The combined capital cities for houses are used for both prices and rents. To make rents comparable with property prices, we have rebased prices and rents to equal 100.0. Caution should be taken when looking at single months of data as prices and rents are volatile and seasonal.
The results show that there has been a significant increase in rents during 2023. That said, the recent uplift was preceded by tepid growth, certainly nothing like the growth in prices. There is scope for rents to grow further, though like prices, after a rapid uplift there are a number of market adjustments. Including a move back to share homes and people deciding to purchase rather than continuing to rent.
The best solution for would be property owners and investors alike, is to see the signal coming from the rental market and increase the supply of properties to purchase and to rent.
Our Leg Up can help first home buyers get into the property market on a modest deposit (as low as 5%), when your income is sufficient to support responsible lending practices. Visit ourlegup.com to find out how.